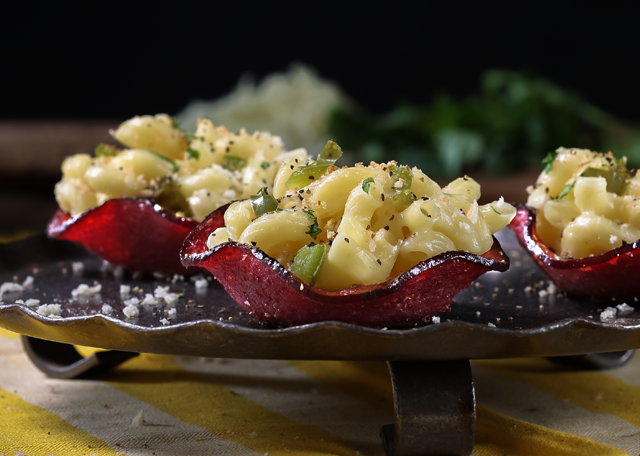 Seltzer's
Bologna Mac & Cheese Cups
6 slices of Seltzer's Bologna
1-2 jalapeño peppers, diced
2 1/2 cups milk
1/4 cup flour
5 oz. shredded cheddar cheese, divided
4 oz. shredded Monterey Jack cheese, divided
6 cups elbow macaroni, cooked
Cooking spray
1/2 cup panko
1 Tbsp. olive oil
1/8 tsp. salt, plus more to taste
1/8 tsp. pepper
2 Tbsp. chopped cilantro
Turn on broiler. Place jalapeño peppers on baking sheet and broil for about 10 minutes or until skin is blistered. Once broiled to your preference, discard stems, seeds and ribs. Chop peppers and set aside. Combine milk and flour in a large saucepan over high heat, whisking constantly. Once mixture comes to a boil, reduce heat and simmer until thickened, 5-8 minutes, continuing to whisk frequently. Remove from heat. Add 4 ounces of cheddar cheese and 3 ounces of Monterey Jack cheese and whisk until melted.
Stir in cooked macaroni, jalapeño peppers, and salt to taste.
Fold bologna into a muffin tin or ramekins. Divide mac & cheese into 6 bologna cups. In a small bowl, stir together panko, olive oil, salt and pepper. Top mac & cheese with reserved cheese and then panko mixture. Bake for 10-15 minutes, or until panko is golden brown. Sprinkle with chopped cilantro.