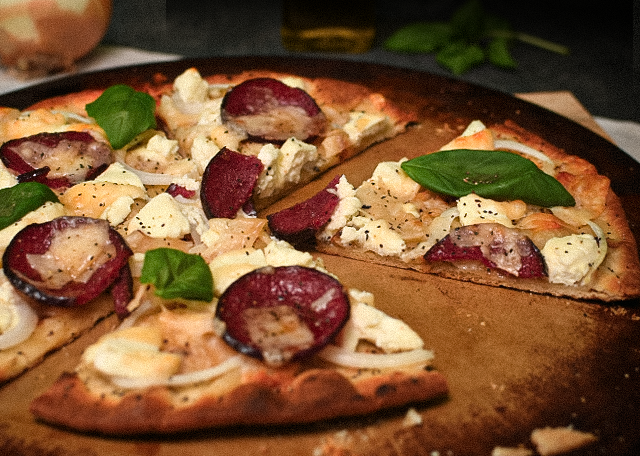 Crust of choice
Olive oil to brush pizza dough
Goat cheese crumbles
Sliced sweet onions
Seltzer's Sliced Sweet Chubs Bologna
Parmesan cheese
Black pepper
Fresh basil
Heat the oven to 550°F or higher. Arrange a rack in the lower-middle part of the oven (if you have a baking stone, place it on the rack) and heat the oven to 550°F or higher. Don't be afraid to really crank the heat up to its highest setting, as the high heat will help make a crunchier and more flavorful crust. Let the oven heat for at least 30 minutes.
Roll out the dough. Brush a thin film of olive oil on a baking sheet. Form dough into a disk with your hands and place it on the baking sheet. Use your hands or a rolling pin to flatten the dough.
Top the pizza. Pile on the toppings and cheese.
Bake the pizza. Using a pizza peel or the back side of a baking sheet, slide your pizza onto the baking stone. If you don't have a baking stone, bake the pizza right on the baking sheet. Bake for 5 minutes, then rotate the pizza. Bake until the crust is golden-brown, and the cheese is melted and browned in spots, 3 to 5 minutes more.
Transfer the pizza to a cooling rack and let cool slightly, just until you're able to handle it.
Transfer to a cutting board, slice and serve.
*optional add fresh basil and black pepper