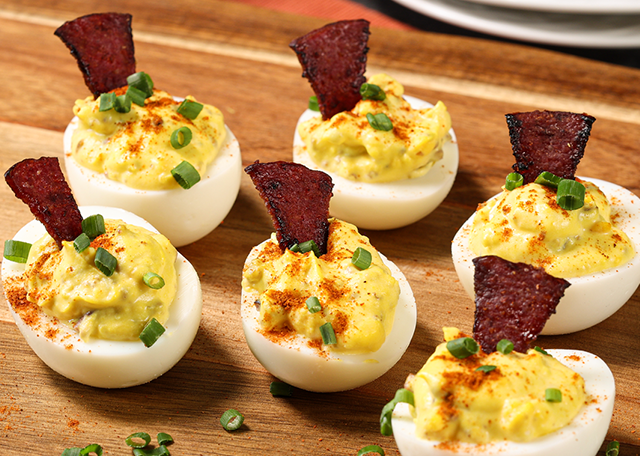 6 large eggs
1/2 tsp. bicarbonate of soda
4-5 slices Seltzer's Lebanon Bologna ​
1/4 cup mayo
1 tsp. white wine vinegar
1 tsp. Dijon mustard
Salt
Freshly ground black pepper
Paprika, for serving
Chopped chives, for serving
Place eggs in a large saucepan and cover with cold water and the bicarbonate of soda. Set pan over medium-high heat and bring water to a boil. Turn off heat, cover pan with a lid and let sit for 11 minutes. Drain, rinse eggs under cold water, and peel.
Meanwhile, fry Seltzer's Lebanon Bologna in a skillet and cook over medium heat for 2-3 minutes per side. Remove from heat and allow to cool. Slice/chop into small pieces (think bacon bits).
Halve eggs lengthwise and scoop yolks into a medium bowl, then mash yolks with the back of a fork. Stir mayonnaise, vinegar, and mustard into yolks until smooth. Add 3/4 of the chopped Seltzer's Lebanon Bologna and stir into the egg mixture. Season with salt and pepper.
Using a small cookie scoop or spoon, scoop mixture into each egg half. Crumble the remaining Seltzer's Lebanon Bologna pieces over the eggs. Dust with paprika and sprinkle with chives before serving.